Nuclear Magnetic Resonance Facility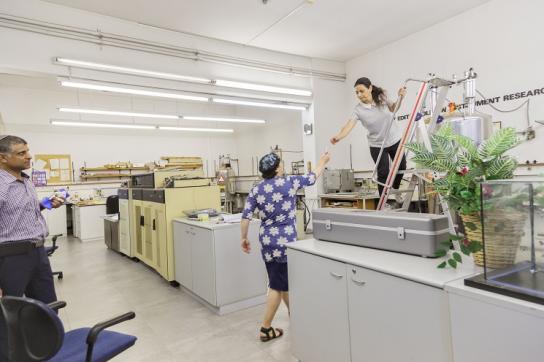 Contact: 
Dr. Keren Keinan-Adamsky, Head of unit,
Nuclear magnetic resonance spectroscopy is a technique that allows the detection of the nuclei of many elements and provides information about the chemical environment of these nuclei by aligning their spins in an external magnetic field and causing energy transitions by pulses of radio frequency.

Our unit includes five modern instruments varying in magnetic field from 4.7 to 16.4 T, corresponding to proton frequencies of 200 to 700 MHz. We have probes allowing the detection of most useful nuclei at a wide range of temperatures.

In the past year, we have received two new spectrometers:

Our new 500 MHz instrument is dedicated to the study of solids and includes several probes that rotate the sample at the so-called "magic angle".

Our new 700 MHz instrument is dedicated to state-of-the art high resolution studies, including proteins and is equipped with a high-sensitivity cryoprobe, cooled with liquid helium.

The NMR instruments are found in rooms 0.02 and 0.05 in building 211.
contact

Service

Instrument

Technology

1D and 2D NMR with the nucleus probes 1H, 13C

Bruker Avance II

NMR 300

 

1D and 2D NMR with the nucleus probes 1H, 31P,15N, 19F

Bruker Avance I

NMR 400

 

1D and 2D NMR with the nucleus probes 1H, 13C, 15N, 31P

Bruker DMX

NMR 600

1D and 2D NMR with the CryoProbe- 1H, 13C, 15N (indirectly)

Bruker Avance III

NMR 700

solid-state CPMAS and multinuclear NMR studies

Bruker Avance III

NMR 500 Solid state