Lending Books
Regular students, academic and administrative staffs of the university are eligible for the lending according to the following rules:
Reserved books - not for loan / 3 days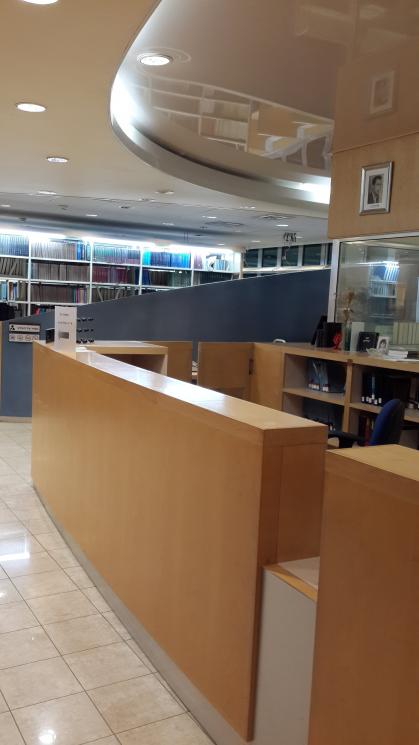 ;
Regular books - one week;
Dissertations (Ph.D.) and Masters Theses -three days / two weeks (unless restricted by the author). 
Scientific journals, reference books, encyclopedias, dictionaries are not borrowed.
Senior faculty members can borrow books and theses for extended periods in order to facilitate their research.
You can order or extend reserved books at the counter or by telephone not via online.
Automatic Renewals:
-          B.A. and Master students – up to 4 months.
-          Doctoral students and junior academic staff – up to 6 months.
-          Senior academic staff and administrative staff - up to one year.
For more information (In Hebrew) please click here.
Certain books may not be renewed:
-          Books that were ordered by another reader.
-          Books that have already been automatically renewed.
Electronic equipment
The borrowing of laptops and projectors is restricted to faculty and students of the Chemistry Department.
Printing facilities
Printing facilities are available only to students of the  Chemistry Department.
Personal advice
Consulting service is designed to give individual assistance by appointment for academic staff and graduate students who write a thesis or doctoral dissertations.
The meetings include a diagnosis of the researcher's information needs, guidance for searches and locating of required information items.
For coordination please contact the library: 03-531-8308 or 03-5317664
or by e-mail:
Trainings
The service is designed to give individual support in using the library resources, such as the library catalog, databases and other library's tools, for students and for academic/administrative staff.
Remote Consulting
You can address your questions to the library staff via e-mail:
or by Tel.:  03-5318308 or 03-5317664,  Sun-Thu between 9 a.m.-4 p.m.
.
Last Updated Date : 03/06/2020