Opening hours from Sunday, 12.11.23 until the begining of the academic year:
Sundays-Thursdays: 09:00-15:00, Fridays: closed.
The Chemistry Library serves undergraduate and graduate students, faculty members and research staff of the Chemistry Department and the Institute for Nanotechnology. It also offers service to undergraduate students of biology, biotechnology and biophysics.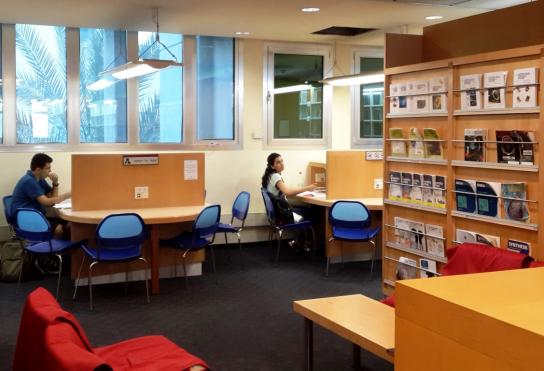 Library Location:
Chemistry Building 211, Room 103.
Library Hours:
Sun-Thu: 8:30 a.m.-4 p.m.
Fri - closed.      
* After closing hours, books may be returned to the designated box near the entrance of the library.
Phone:
03-5318308
03-7384053
Fax: 0773643673
Email: 
Library staff:
Library Director: David Gordon
Email: david.gordon@biu.ac.il
Ph.: 03-5318308 
Ph.: 03-5317664
Librarian: Ms. Petrov Irina
Email: petrov.irina@biu.ac.il
Ph.: 03-7384053
Ph.: 03-5318962
The library collection
The library has a rich collection of printed chemistry scientific monographs, chemistry textbooks for students and faculty, a collection of the Chemistry Department theses (PhD and MSc), a collection of electronic databases, printed and electronic journals, and also a collection of printed magazines such as Nature (years 1956-2002) and Science (years 1947-2003).
The printed collection of the library consists of two main parts: the first part includes open shelves of monographs, textbooks, scientific journals, PhD and Masters Theses. The second part contains highly requested monographs and textbooks which can be accessed through the library staff.
Library and external items can be found via the online catalog (PRIMO), electronic resources (books, academic articles, review articles, scientific conference reports, research reports and more) via electronic databases.
Library facilities
The library contains a large collection of textbooks, journals and theses in all fields of chemistry. There are desks for individual study as well as a study room for students of the department. The library maintains several computers which can be accessed exclusively by Chemistry Department students.
Library etiquette
Eating, drinking and smoking are strictly prohibited
Readers are requested to keep quiet
Please turn off your cell phones
Group study is allowed only in the room designated for this purpose.