Prime Minister's Prize for Innovation Awarded to Prof. Doron Aurbach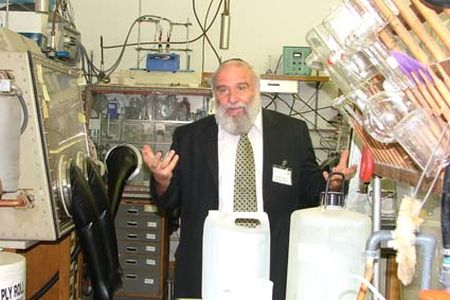 Prof. Doron Aurbach, of the Department of Chemistry and Institute of Nanotechnology and Advanced Materials, has been awarded the prestigious 2018 Eric and Sheila Samson Prime Minister's Prize for Innovation in Alternative Fuels for Transportation. 
Prof. Aurbach is the first Israeli to win the prize since its establishment six years ago. The prize was bestowed upon him by Prime Minister Netanyahu at the Sixth International Smart Mobility Summit taking place this week in Tel Aviv.  Prof. Aurbach shares this year's prize with Dr. Lars Peter Lindfors, Senior Vice President of Technology at the Finnish oil refining and marketing company Neste.
The prize, established by the Prime Minister's Office, the Ministry of Science and Keren Hayesod, is the world's largest for alternative energy and is awarded to scientists who have significantly advanced the field. 
Prof. Aurbach received the prize for his pioneering contribution to the development of new batteries, including an innovative magnesium-based battery. His promising research may enable the development of batteries to propel electric cars as a substitute for fossil fuel. Prof. Aurbach has also made important contributions to basic battery research, and in developing applications in collaboration with industry, such as BASF, the world's largest chemical company, and General Motors. He leads the Israel National Research Center for Electrochemical Propulsion (INREP), which includes 23 research groups.
"For me and for generations of researchers in Israel and around the world, Prof. Aurbach is a beacon of entrepreneurship who has bolstered Bar-Ilan University as a pioneer and leader in the development of sustainable energy technologies that have the potential to make a tremendous impact on the future of humanity," said Bar-Ilan University President Prof. Arie Zaban.
Dr. Lindfors and his team were recognized for their development of innovative methods for making bio-diesel fuel from organic waste materials, such as animal oils and used cooking oils. Based on this process, Neste produces millions of tons of bio-diesel annually used to propel trucks and ships. Using these fuels could reduce greenhouse gas emissions by 90% and thus contribute to the fight against global warming.
In a press release announcing the winners, Prime Minister Netanyahu said, "The State of Israel is at the forefront of the world's smart transportation revolution.  We have become a center of knowledge, research, industry and technology in the field of fuel substitutes and smart transportation, and a leader in international solutions and collaboration. Awarding this prize to an Israeli researcher is testimony to this."
Minister of Science and Technology Ofir Akunis said, "This prize symbolizes the State of Israel's commitment to advancing the subject of alternative fuels for transportation, which impacts upon our economy, security, science and society."
The winners were selected from a large number of candidates recommended by the presidents of universities and research institutes, and by industry executives from Israel and around the world.