Department Head's Welcome
Dear Candidates,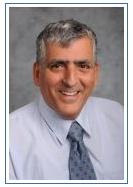 I am happy to welcome you to the virtual home of the Department of Chemistry at Bar-Ilan University. I am sure that when you join our department, which is spread over several buildings, you will feel at home as well. Personal attention, a friendly atmosphere and the involvement of our faculty members, administrative and technical staff and of course the students themselves, have provided us with a reputation as a warm and "family" oriented department.

Research in our department includes an incredibly diverse range of fields from the design and development of drugs to electrochemical and renewable energy. The spirit of research is not only felt in the laboratories but also in monthly events such as a "Horizons in Science " in which first class scientists come to give popular talks on various topics followed by an informal chat of students and faculty with the lecturer during dinner, or "White Nights" in which research continues well into the night and ends with pizza, beer and music ...

The department takes pride in obtaining research scholarships for its students, is proud of its external scholarship winners, its holiday festivities and events and its caring and supportive technical and academic staff.

We are proud that our department is well equipped with the best and latest scientific instrumentation. Most of these are run by experienced professionals and support the department's massive research infrastructure.
We offer a very large selection of exciting courses for research students – from industrial to environmental chemistry; from oxidation processes to catalytic methods and from polymers to colloids.

This winning combination of broad scientific training, thorough and uncompromising, along with an infrastructure of modern laboratories and equipment as well as with an enthusiastic, dedicated and experienced science faculty, ensures the excellent training of students for all degrees.
Professor Yitzhak Mastai
Department Head
Last modified: 25/01/2015