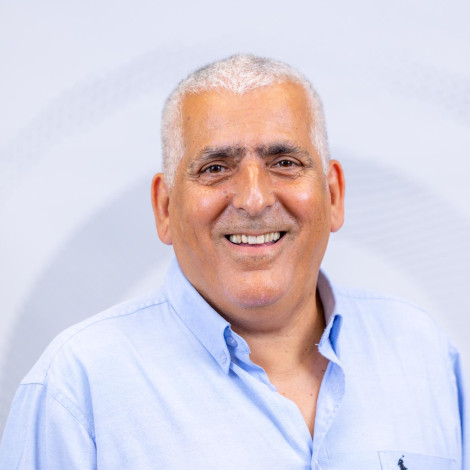 Professor
Prof. Yitzhak Mastai
Professor
Office
Nano Bldg. 206, Room C268. Laboratory: Nano Bld. 206, Room C261/2/3/4, Laboratory Phone: 077-3063255
CV
Research

Research

Research Summary

My primary field of research is chirality at the nanoscale, with a focus on preparation and application of nano-chiral surfaces for enantioselective processes. My research interests can be divided into several areas:

Chiral surfaces based on self-assembled monolayers

This research concerns fundamental studies of chiral surfaces based on ultrathin molecular architectures, such as self-assembled monolayers (SAMs), on solid supports. We were pioneers in the study of chiral SAMs for the preparation of chiral nanosurfaces for chiral resolution by crystallization. In a series of papers, our research group has shown that chiral SAM surfaces can be employed as resolving auxiliaries in the crystallization of amino acids from solutions. Recently we presented an innovative new type of chiral surface based on a chiral SAM coated with ceramic nanolayers that preserves the enantioselectivity nature of the chiral SAM and enables its protection. These surfaces can lead to a new class of chiral nano-surfaces with the improved characteristics that are necessary for any chiral application.

 

 

Chiral polymeric nanoparticles

This research concerns the development of polymeric nanoparticles fabricated using emulsion (mini or micro) polymerization. For example, we developed chiral polymeric nano- and microspheres that can act as chiral auxiliaries and be utilized for enantioselective crystallization. We are also developing chiral polymeric nanoparticles of controlled size and shape for other chiral applications such as a chiral stationary phase for chromatographic separations and as catalytic systems for stereoselective reactions.

 

Chiral mesoporous silica

Our group is also involved in the development of chiral mesoporous silica by chiral imprinting or by cooperative self-assembly of chiral amphiphiles and silica precursors. Our research focuses on the fabrication of chiral mesoporous materials and exploring the mechanisms involved in their formation and their chiral recognition.

 

New chiral analytical techniques

The group is also working on the development of new analytical methods to probe chirality at the nano-scale. We pioneered the development of near-field scanning optical microscopy (NSOM) and isothermal titration calorimetry (ITC) for the determination of chirality at the nanoscale.

 

Research Grants:

Period

Funding Organization

Research Topics

Total ($)

2003-2005

GIF young scientists P.I

Polymers mimicking antifreeze proteins.

39,000

2003-2005

Israel Academy for higher education

Yigal Alon fellowship

29,000

2003-2006

Pollack Foundation P.I.

Biomineralization

18,000

2004

ISF Role - P.I.

Laboratory for new faculty member

140,000

2004-2007

ISF Role - P.I.

Hydration of polyelectrolytes and biological macromolecules.

96,000

2006

German-Israeli cooperation in water technology research.

Miniemulsion polymerization of cyclodextrins nanoporous beads for water purification application

10,000

2007

German-Israeli cooperation in water technology research.

Small-Angle X-Ray Scattering (SAXS) study of water in modified mesoporous silica: applications for desalination systems.

10,000

2007

Converging technologies equipment grant (ISF) P.I

Rutherford Backscattering spectrometry

562,451

2007

Ministry of Defence Israel (M.O.D)

Confidential

12,000

2007-2009

Horvitz foundation P.I

Antifreeze proteins: from nature to industry - from basic research to business opportunity

80,000

2009

Katz Family Research Grant Incentive.

Nanostructured Surfaces for Prevention of Biofilm Formation.

50,000

2007-2010

ISF Role P.I

Imprinting Chirality in Mesoporous Structures and its Application in Chiral Resolution.

210,000

2011

Equipment grant (ISF) together with Prof. Sukenik and Dr. Tischler

Atomic Force Microscope with Raman Spectroscopy.

270,000

2011-2015

Israel Science Foundation

Chiral polymeric nanoparticles for enantioselective applications.

320,000

2013

Bar Ilan University – Rabin Medical Center Collaborative Grant Proposals in Biomedical Research,

Dr. David Lifshitz

Biomimetic polymers for passivation of hydroxyapatite plaques.

 

20,000

2016-2018

Ministry of Defence Israel (M.O.D)

Confidential

150,000

2016-2019

Ministry of Health, ERA - NET

Engineered nanotools for advanced cell therapies.

360,00

2016-2019

Israel Ministry of Economy (Magnet מגנ"ט).

SHPS-Super Hydrophobic Plastic Surfaces.

80,000

2017-2020

German-Israeli Foundation (GIF)

Enantioselective mesoporous carbon based on chiral ionic liquids.

495,000

2018-2021

Israel Science Foundation

Chiral metal oxides surfaces: synthesis, characterization and applications.

370,000

Neutron beam and synchrotron radiation time grants

| | | |
| --- | --- | --- |
| Period | Funding Organization | Research Topics |
| August 2005 | Intense Pulsed Neutron Source (IPNS), Argonne National  Laboratory USA. | Inelastic neutron scattering studies of water in porous silica. |
| December 2006 | I.S.I.S Rutherford Appleton Laboratory, United Kingdom. | Neutron scattering of water in porous silica. |
| May  2007 | I.L.L, Institute Laue-Langevin Grenoble France. | Water in porous materials. |
| January  2008 | Intense Pulsed Neutron Source (IPNS), Argonne National Laboratory. | Structure of water in mesoporous organosilica by calorimetry and inelastic neutron scattering. |
| April 2013 | ESRF | The structure of mercury-supported Langmuir films of ionic liquids. |
| May 2016 | ESRF | Neutron scattering of amino acids and dipeptide. |

 

 

 

 

 
Courses

Courses

Undergraduate courses:

"Inorganic Chemistry" and "Physical chemistry laboratory".

Graduate courses (M.Sc and PhD):

"Chemistry of Colloids and Surfaces"

"Introduction to nanomaterials"

"Introduction to solid state chemistry"

 

 

 
Patents

Patents

1) Y. Mastai, M. Homynofer, R. Tenne, G. Hodes "Synthesis of inorganic fullerene-like nanoparticles of metal chalcogenides" Israel patent No.130, 915 1999, PCT-International patent No. WO01/04382, 2002.

2) Hagit Kun and Y. Mastai "Activity of Short Segments of Type I Antifreeze Protein." USA provisional patent 2009.

 
Research Group

Research Group

Lab assistance

 

Dr. Yochai Basel

Organic synthesis and characterization

The main research field of the work is organic synthesis of starting materials to prepare chiral materials for research of the group members and NMR analysis of products and intermediates.

Contact: yochai.basel@biu.ac.il

---

Main research interests include nanomaterial synthesis, crystallization of nanoparticles, and nanoscale chirality.

Contact: zion.elani@biu.ac.il

Publications:

---

 

Students

Eitan Elfassi (PhD 2016)

Chiral ionic liquids

The influence of long alkyl chains and chiral centers on the structure and properties of ionic liquids at interfaces are studied. Langmuir films of ionic liquids on liquid mercury are studied by tensiometry, surface specific X-ray methods and spectroscopy.  Further applications of chiral ionic liquids for chiral recognition and chiral separation are considered.

Contact: eitan.elfassi@gmail.com

 

Ortal Lidor-Shalev (PhD 2017)

Atomic layer deposition of metal-oxides thin films onto chiral biological macromolecule

This project is designed to produce a new platform for stereoselective applications based on chiral metal-oxide thin films surfaces. The new chiral surfaces are based on biological macromolecules with a complicated spatial structure, used as a model system. The biological molecules are coated with nano-sized metal oxide layers by atomic layer deposition (ALD) process, for obtaining chiral metal oxide surfaces.

Contact:ortalidor@gmail.com

 

 

Liora Verber (PhD 2017)

Chiral polymer nanoparticles synthesis and application for chiral separation

In our work we prepare chiral polymeric nanoparticles based on the polymerization of N-acryl amino acids monomers in miniemulsion systems (o/w). The chiral nature of those nanoparticles is proven by isothermal titration calorimetry (ITC) of chiral molecules.

Contact: LIORAN86@gmail.com

 

Gila Levi (PhD 2017)

Chiral silica colloidosomes, synthesis and applications

Colloidosomes have shown a high potential in a number of technological applications related to encapsulation techniques. The application of the colloidosomes strongly relies on facile and lowcost preparation methods allowing tunable characteristics such as wall thickness, rigidity and porosity. Our aim is to prepare chiral silica colloidosomes in Pickering emulsions and to explore their enantioselective ability in different chiral systems.

Contact: gui.bench@gmail.com

 

Irena Nemtsov (M.Sc 2015)

Antifreeze activity of surfaces based on self-assembly of antifreeze proteins

Antifreeze proteins (AFPs) are unique examples of natural antifreeze materials that have specific interactions with water and ice. AFPs, first found in the blood and tissues of Antarctic and some northern marine fishes, are essential to prevent the fish from freezing at low temperatures. 

Contact: iranemtsov@gmail.com

 

Yehuda Rodal (PhD 2017)

My research deals with the removal of organic poluutants in water by polymerization methods and using UF membrans.

 

 

 

Group trips

  

 

Former students:

Tal Berman (M.Sc 2005), Keren Solomon (M.Sc 2007), David Dressler (PhD 2008), Tali Menahem (PhD 2008), Hagit Kun (PhD 2008), Idan Hod (M.Sc 2008), Yael Katsir (M.Sc 2008), Eti Baruch (PhD 2009), Esthy Levy (PhD 2009), Dana Medina (PhD 2009), Ayelet Shvalbe (PhD 2009), Ruth Frid (PhD 2011), Revital Charbash (M.Sc 2011), Gil Ring (M.Sc 2012), Michal Ejgenberg (PhD 2012), Lihi Rotbart  (Mc.S 2013),  Hagay Moshe (PhD 2014), Ido Fuchs (PhD 2015), Shira Adler (PhD 2015). 

 

   

 

                                   

 

   

                        

 

Visiting Ph.D students and post-doctoral fellows

Name

Institute

Project title

Period

Dr. Martin Pravda

Faculty of Pharmacy Charles University Prague, Czech Republic.

Amino acids block copolymers for enantioselective crystallization.

10/2004 02/2005

 

Grzegorz Wloch

University of science and technology Krakow, Poland.

Solution deposition of calcium phosphate powders and thin films.

09/2005

02/2006

 

Dr. Bezalel Sivan

Rabin medical center Petah Tikva, Israel.

Kinetics of dissolution of uric-acid at different pH value.

10/2007  02/2008

Dr. Yuliya Alexandrovna

Al-Farabi national University, Almaty Kazakhstan.

Developing new sorption materials based on raw materials and their applications.

03/2009  05/2009

Dr. Pradip Paik

Post-Doctorate at my group BIU

Chrial Silica

10/2008  10/2010

7/2015

Nikolaos Pliatsikas

PhD student at Aristotle university, Greece

Characterization of Au nanoparticles 

4/2015

Jon Bennion 

PhD student at the university of michigan, USA

Cocrystallization of materials

7/2015

 

In the period from 2015 to the present, I have been consulting Ph.D. doctoral students of Al-Farabi Kazakh National University (https://www.kaznu.kz/en) of the Faculty of Chemistry and Chemical Technology, the Department of Physical Chemistry, Catalysis, and Petrochemistry. From 2015 till 2019 I led the doctoral candidate Ainur Imangalieva with Professor Gulziya Seilkhanova. In June 2019, she successfully defended the dissertation thesis on the topic of "Sorption and catalytic characteristics of composite materials based on natural raw materials" in the specialty 6D072000 - "Chemical Technology of Inorganic Substances". The following joint articles were published on the topic of the dissertation:

1. Seilkhanova G.A., Imangaliyeva Ainur N., Mastai Yitzhak, Rakhym Akmaral B. Bentonite Polymer Composite for Water Purification // Bulletin of Materials Science. - 2019 .-- Vol. 42:60, Issue 2. - P. 1-8. IF: 1,264. https://doi.org/10.1007/s12034-019-1752-1

2. Imangaliyeva Ainur N., Mastai Y., Seilkhanova G.A. In situ synthesis and catalytic properties of Cu2O nanoparticles based on clay materials and polyethylene glycol // Journal of Nanoparticle Research. - 2019. - Vol. 21:97, Issue 5. - P. 1-11. IF: 2.127. https://doi.org/10.1007/s11051-019-4548-8

Currently, research is being carried out with a Ph.D. doctoral student Akmaral Rakhym on the topic of "Physicochemical and Applied Characteristics of New Composite Materials Based on Natural and Technogenic Raw Materials". In the period from 1.07.2019 to 1.10.2019, Akmaral Rakhym completed an internship under my supervision at the Chirality Nanoscale laboratory of the Department of Chemistry and the Institute of Nanotechnology, Bar-Ilan University.

 

During the internship, she mastered SEM/EDAX, XRD, BET, FTIR, UV-VIS spectroscopy methods, carried out the synthesis of composite materials based on zeolite and clay, investigated the sorption characteristics of the composites towards such toxic organic pollutants, as Bisphenol-A and Propranolol Hydrochloride. Based on the results of the internship, an article was prepared for publication. It should be noted that Ph.D. doctoral students have good theoretical knowledge in the field of chemistry and chemical technology, have shown practical skills in organizing an experiment, generalizing and analyzing literature, and interpreting scientific results.

 

 

Prof. Yitzhak Mastai

Department of Chemistry and

The Institute of Nanotechnology

Bar-Ilan University, Israel

 

 

 

 

 

 
Last Updated Date : 05/07/2022