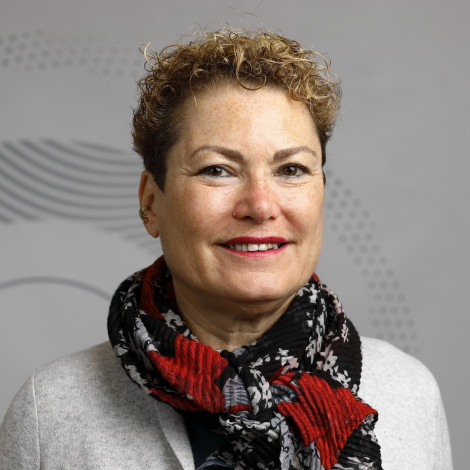 Full Professor
Prof. Bilha Fischer
Full Professor
Email
Bilha.Fischer@biu.ac.il
Office
Gonda Bldg. (204), 2nd Floor, Room 213. Laboratory: Gonda Bldg. (204), 2nd Floor, Room 201. Lab: 972-3-5317785
Reception Hours
Mo-Tue 15-18; Thu 12-14 (appointment required)
CV

CV

 

BILHA FISCHER – A BRIEF BIOSKETCH

Position: Full Professor in the Chemistry department, Bar-Ilan University.
Professional experience: Leading a research group focusing on drug development and diagnostics, involved in national and international collaborations both in academia and industry for the last 20 years.
Education: MSc degree in Medicinal Chemistry (chemistry of carbohydrates) under the supervision of Prof. A. Nudelman/BIU; PhD in Organic Chemistry (chemistry of heterocycles)/BIU under the supervision of Prof. A. Hassner; Post-doctorate (chemistry of nucleosides and nucleotides, molecular modeling) under the supervision of Dr. K. Jacobson/NIH, MD, USA.
Teaching experience: Courses in - Medicinal Chemistry, Biochemistry, Inorganic Chemistry, Modern Strategies in Drug Design, Bio-in-organic Chemistry, Bio-organic seminar, and Organic Chemistry Laboratory.
Over 110 papers and 10 patents.
Membership: Vice dean of Scool of advanced studies,  Bar-Ilan U senate member, member of the Israel Prize committee (in the field of Chemistry and Physics), former head of the Chemistry department, former Rector's advisor for promotion of women in academia; Member of the Board of Executives of the Israeli Chemical Society, MSc Degree committee, PhD Degree committee, Referee of the Israeli Science Foundation committee, Referee of the Fulbright Foundation, Departmental Teaching committee, Member of the University Appointment and Promotion committee. 

Prizes: Teva Prize for excellent young scientists; Juludan Prize (Technion) for the Application of Exact Sciences to Medicine; Shoham Prize for arts

 

MY CREDO

 

General – I believe that Israel, which is almost devoid of natural resources, should focus on its human resources, in particular on scientists and engineers, to promote the Israeli economics. We, as scientists, must take part of this effort to promote science in Israel.

 

Drug Development - I believe that we as medicinal chemists take part in TIKUN OLAM = we Make the World a Better Place. This is our duty and privilege.

 

Industry – Currently there is some gap between academia and industry, which I believe should be bridged by joining forces and working-out common initiatives.

 

Community - I believe that the academia is like Aladdin's treasure cave. The numerous treasures of knowledge should be shared with community.

 
Research

Research

 

Medicinal Chemistry – development of drugs for the treatment of - type II diabetes, glaucoma, Alzheimer's disease, osteoarthritis, and inflammatory bowel diseases; Diagnostics – development of fluorescent probes for diagnostics of breast cancer; Purinergic receptors; nucleotide metabolizing enzymes; chemistry of nucleosides/nucleotides and nucleic acids.
Courses

Courses

Inorganic Chemistry; Biochemistry; Medicinal Chemistry; Organic Chemistry
Patents

Patents

Patents

1.       Biologically Active ATP Analogues. Fischer, B.; Maillard, M.; Jacobson, K. A. US5620676, 1997.

2.       8-Substituted 1,3,7-Trialkyl-Xanthine Derivatives. Jacobson, K. A.; Karton, Y.; Gallo-Rodriguez, C.; Fischer, B.; van Galen, P. J. M.: Maillard, M.; US5861405, 1997.

3.       C8 Substituted Purine Nucleotide Analogues. Gendron, F.-P.; Halbfinger, E.; Beaudoin, A. R.; Fischer, B. US patent 6,617,439, 2003.

4.       Antidiabetic 2-Substituted-5'-O-(1-Boranophosphate) Adenosine Derivatives. Fischer, B.; Kleiman, V.; Linck, N.; Chapal, J.; Petit, P. US Patent (pending) 10/493,461, SA patent (pending) 2004/2697, 2004.

5.       Inorganic Boranophosphate Salts. Fischer, B.; Nahum, V. US Patent No. 7,338,669, 2008.

6.       Fluorescent N2,N3-etheno purine (2'-deoxy) riboside derivatives and uses thereof. Fischer, B.; Sharon E. Patent No. 7,385,051, 2008.

7.       Antidiabetic diuridine poly(borano)phosphate derivatives. Fischer, B.; Nahum, V. US Patent No. 7,319,093, 2008.

8.       Dinucleoside poly(borano)phosphate derivatives and uses thereof. Fischer, B.; Nahum, V. Patent No. 7,368,439, 2008.

9.       Non-Hydrolyzable Nucleoside di- or tri- Derivatives and Uses Thereof. Fischer, B.;  Elyahu, S.; Yellovich S. PCT Application No. IL2008/001535, 2008.

 

10.     Inorganic phosphate derivatives, nucleotides and oligonucleotide antioxidants. Provisional patent. Fischer, B.; Richter, Y; Baruch, R.; Zion Meirav. Application No. 61/213,397, 2009.

11.     A potent agent for reducing intraocular pressure. Fischer, B.; Elyahu, S.; Pintor, J. US Prov. Application No. 61/282,133, 2009.

12.     Nucleoside 5'-phosphorothioate analogues and uses thereof. CIP appl. no.: 14/479,181, B. Fischer, O. Shimon, Y. Nadel, U. Arad; 2014.
Research Group

Research Group

 

If it's the people in our lab you want to meet,

watch this video, I'm sure you'll enjoy the treat!

https://www.youtube.com/watch?v=2tcd95DAq7s

Bilha Fischer's Lab -- אני והתרופה שלי  

=============================================================

Our Group (2019)

 

Prof. Bilha Fischer

Head of Research Group

Vice dean of School of Advanced Studies     

Natalie Pariente-Cohen

Lab manager- (PhD)

 

Abed Alhadi Saady

PhD. Student

 

Helaneh Salame

PhD. Student

 

 

 

Molhm Nassir

PhD. Student

 

 

Yulia Kabalin

MSc. Student

 

 

Chen Timsit

MSc. Student

 

 

Yeela Elbaz

MSc. Student

 

 

 

Recipient of the Zvi Yanay PhD scholarship.

 

 

         

 
Last Updated Date : 17/05/2022